Find out more about our work and achievements over the past year.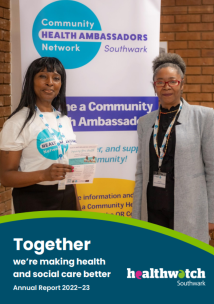 Our Annual Report 2022/23 details our work, achievements and impact over the past year, our priorities for the coming year, as well as financial information. Some highlights from this year include:
We engaged with 3000 people via community events and outreach programmes.
We collected feedback from 175 people about their experiences of health and social care services.
We provided advice and information about key topics such as how to make complaints or access dental services to 60 people.
We published a report on Health Access for Latin American Communities, which highlighted the challenges to accessing health and social care services for Latin Americans in Southwark.
We broadened our Community Health Ambassadors Network to cover key topics such as mental health, vaccinations, cancer prevention, cost of living support and more.
Thank you to all our members, partnering care providers, community organisations, and residents who have supported our work- we couldn't have done it without you!