Are you pregnant or recently had a baby?
This is an opportunity to participate in a research study about your experiences and attitudes relating to vaccinations in pregnancy. It will be a relaxed and friendly chat with a researcher.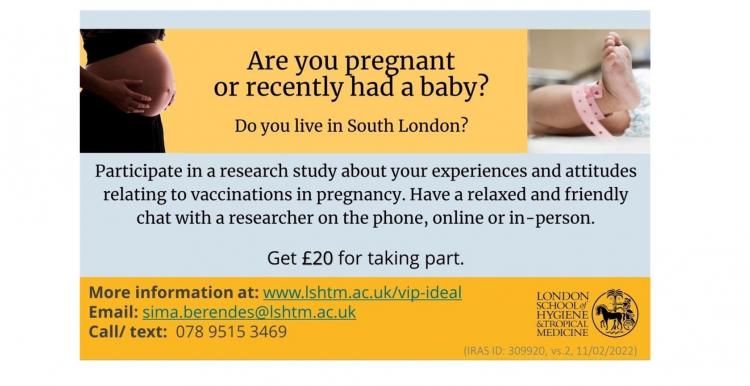 This is a research study by the London School of Hygiene and Tropical Medicine (LSHTM, member institution of the University of London) that has been approved by the South London NHS Ethics Research Committee.
As part of the study, the researchers would like to conduct a confidential and impartial interview or group discussion with pregnant or recently pregnant women on their views towards vaccinations in pregnancy. Participants will receive £20 as a thank you for their time.
Click here for more information 
If you are interested in taking part, please contact Dr Sima Berendes (LSHTM Researcher) either via email (sima.berendes@lshtm.ac.uk ) or phone/ text/ WhatsApp (078 9515 3469).