What's happening to Lambeth Hospital? A blog of the Southwark Mental Health Carers Forum
On Friday 24 April I attended the Southwark Mental Health Carers Forum, where we heard about the proposal to move mental health inpatient wards for Lambeth residents from Lambeth Hospital to the Maudsley in Southwark.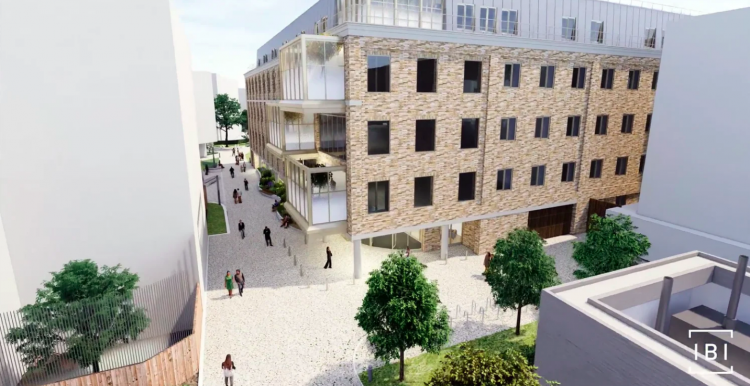 Written by Alice, Research & Intelligence Officer at Healthwatch Southwark
The forum runs on the last Friday every month, and is currently being held over Zoom. It was attended by mental health carers, SLaM staff and a few different organisations (including us!) and facilitated by the wonderful Matthew Mckenzie, himself a former carer who does a huge amount to involve and empower mental health carers across South London. You can find him on Twitter here.
He started the forum with a few thoughts that I want to share here: involving carers is not always about hearing stories – it's also about ongoing, active empowerment and engagement. We shouldn't just give carers an assessment and then say "good luck", because services are ever-changing and, especially in the case of mental health carers, there may be a mismatch between the carer's and cared for person's perceptions about their condition and need for help. This is something we've also found in our own research on unpaid carers' experiences. 
This forum focused on the Lambeth Hospital consultation; the proposal to move adult inpatient mental health services from Lambeth Hospital to new, purpose-built facilities at the Maudsley Hospital in Camberwell. Two SLaM staff members working on the consultation gave a presentation over Zoom, and then we were given a chance to ask questions.
First, they spoke about the need for change. The main reason is to improve the quality and safety of adult mental health inpatient wards for people in Lambeth, as the existing wards in Lambeth Hospital are in poor condition and don't meet modern standards. The opportunity to build a new, purpose-built unit on the Maudsley site arose due to the demolition of Douglas Bennett House on Windsor Walk.
There are a range of issues with the current wards in Lambeth Hospital, including unsafe structural design, almost no ensuites and few bathrooms in general, and poor drainage systems that cause blockages. I was interested to hear about the issues of staff lines of sight. In Lambeth Hospital the lines of sight through the wards are poor, which means that staff can't look briefly down a corridor and see everything that's happening because of hidden nooks. This compromises safety, but also means staff end up following people more, adding to the overall sense of institutionalisation and scrutiny. The wards are also generally cramped, with no purpose-designed facilities for therapeutic activities, and very little unsupervised access to fresh air. These are poor conditions for the patients, and poor working conditions for the staff.
Therefore, the proposal is to relocate four acute wards and the psychiatric intensive care unit (PICU) to the Maudsley site. The other option (as it wasn't seen feasible to continue as they were) was to build the new facility on the Lambeth Hospital site. This wasn't the preferred option because it would take more capital, being £30-35 million more expensive, and would require wards to be relocated during the building work. The proposal also goes alongside the general 'Living Well' strategy in Lambeth, which intends to identify and support people in mental distress sooner, leading to fewer and shorter inpatient admissions.
We were given a virtual walkthrough of the proposed new build over Zoom. Service users and carers helped to shape the design, which consists of 72 acute beds for Lambeth patients across four single-gender wards, as well as a PICU and rehabilitation facility. There will also be two specialist wards (Neuropsychiatry and Eating Disorders) moving from Bethlem Royal Hospital onto the same site. What immediately struck me about the new build was the amount of light and the outdoor space. Having experienced inpatient psychiatric care myself, a major issue is the feeling of being closed in and extremely disconnected from the outdoors. Each ward has an outdoor balcony (complete with greenery) that patients can access unsupervised from the main 'dayspace', and even the inner rooms have windows looking onto a central courtyard that spans the whole height of the building.
Another feature of the design is the open 'front of house' for staff. A typical inpatient ward has the nurse's station in a windowed observation room or office, and patients have to knock and wait at the door to speak to staff. Here, the station was an open desk in the 'dayspace' (a large area for dining and seating) with a lockable nurse's office behind the station. This also had a separate exit to keep staff safe if necessary. On each ward, there will be also be a quiet room and a multidisciplinary treatment (MDT) room. It was fascinating to hear about the mental health considerations that went into the architecture and design, especially once we were given the opportunity to ask questions.
Q&A
Q: How will patients be kept safe on the balcony outdoor spaces?
A: Each balcony is surrounded by 4.5m of toughened glass that can't be smashed and isn't climbable. The design ensures that there is no nearby furniture that could be used to take a run-up and get over the windows, and it was also tested that two adults couldn't climb atop one another to get over it.
Q: Patients often used to gather to smoke outside Lambeth Hospital. How will you manage patients smoking at the new wards?
A: It is illegal to smoke on the hospital site, but the Trust is working with regulators on a strategy to create space and time for people to be able to smoke. They also have an active smoking cessation programme, including making e-cigarettes available to patients – and vaping is allowed on the site.
Q: It's much harder to access the Maudsley site from certain parts of Lambeth because the travel connections aren't good. Has this been considered?
A: A travel impact assessment was carried out, and it concluded that while for some postcodes in Lambeth access would become more difficult, on balance, more postcodes would find it easier to get to the new site at Denmark Hill. They are also working with Transport for London (TfL) to consider ways to further improve access.
Q: How are the wards ventilated?
A: There are windows in all of the bedrooms that can be opened a limited amount, as well as forced air ventilation throughout. The glass of the windows has been specially designed to reduce solar heat gain, and there is no air conditioning, to prevent the building becoming uncomfortably hot or cold.
Q: What will happen to the Lambeth Hospital site?
A: No decisions have been made at the moment, but they are looking at selling it in order to invest in other facilities. For example, the site could provide nurse's accommodation or 'affordable' housing. However, they hope that they can get some money from the site for the new build. They will keep local people informed about what will happen. It was agreed that any new build should capture and reflect the history of the Lambeth site.
Q: How have local people been engaged in the consultation?
A: This has obviously been more difficult during the coronavirus outbreak, but there have been posters advertising the consultation in pharmacies (where there are still people queuing), geo-located Facebook adverts, and the consultation team has tried to participate in video and conference calls (like the Carers Forum!).
The Lambeth Hospital consultation runs until 31 May. Please share your thoughts in the online questionnaire:
https://www.surveymonkey.co.uk/r/lambethhospitalconsultation
Or, you can find out more about the proposal and get your own virtual tour of the new build here:
If you would like any further information, or to have a chat about the consultation you can get in touch here:
0800 307 7650
Download the consultation documents