Appointment systems at GP Practices
From October 2016 to February 2017 we spoke with 397 local people about what they thought HWS should focus on in 2017/18.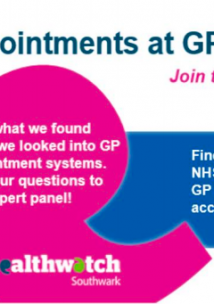 The most common concern by some distance was the issue of getting timely access to GPs, which we therefore made one of our priority areas.
From May to August 2017 we used our power of Enter and View to visit all 44 GP practice sites in Southwark.
We also received online survey responses from 39 Practice Managers, interviewed 50 receptionists, and talked to 550 patients about their experiences of GP appointment systems. 
We held a public event to discuss the findings on 5th December 2017.
You can find below the report on our findings: