Supporting Carers in Southwark: Continuing the Dialogue
On 19 February we held an event with nearly 30 unpaid carers, as well as staff from support organisations and the Council, where we discussed the challenges of caring, and what helps. Read about the findings from these discussions in our new report.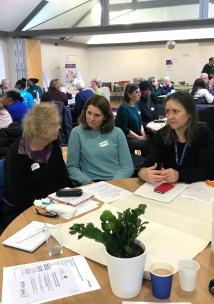 At the event, we wanted to present the findings from our report, The Impact of Caring on Unpaid Carers, and provide an opportunity for carers to be listened to directly. Many people shared their experiences at the event, for which we are extremely grateful.
We were also pleased to welcome staff from the Adult Social Care department of Southwark Council, to build on our collaborative relationship and give them a chance to listen and chat to carers in an informal setting. 
We also want to thank Citizen's Advice Southwark, Southwark Wellbeing Hub, AgeUK Lewisham & Southwark, Alzheimer's Society, and the Southwark Dementia Action Alliance for hosting such informative and engaging stalls. 
This report mainly presents the findings from the table discussions, the first of which was themed around Challenges, and the second around Resilience. The goal of these discussions was to find out more about what would enable carers to continue in their roles without detriment to their own wellbeing. We wanted to build on our report findings about the resources that carers find most useful, and consider how we might prevent protective factors from being eroded.
The group discussions also allowed us to explore the relationships between different themes – for example, how one 'challenge' might influence another. 
Download the event report
Find out more about the event and the themes from the table discussions, including the challenges that carers face and the support they want.