Work with Southwark and Lambeth Strategic Partnership
The SLSP is a partnership of major health and social care providers across Lambeth and Southwark. Community Southwark was commissioned to support public engagement and ensure local people's perspective was heard.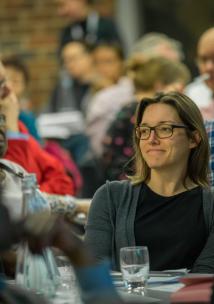 Between September 2018 and May 2019, our Partnership Coordinator worked across Healthwatch Southwark and Healthwatch Lambeth (http://www.healthwatchlambeth.org.uk/) and with the voluntary and community sector.
The Partnership's Programmes
The Local Care Record (LCR) is focused on the better sharing of health and social care data.
Local Care Networks (LCNs) bring together providers from across primary and secondary care, social care and the voluntary and community sector (VCS), and look at how they can work together to provide more joined up care.
Mind & Body aims to change culture within health services to encourage a holistic way of working, considering a patient's mental health as well as their physical health. It also looks at the link between mental ill health and physical health.
The Children and Young People's Health Partnership (CYPHP) is focused on improving everyday healthcare for children and young people by providing expert care more quickly and closer to home. Children with long-term conditions (eczema, constipation, asthma and epilepsy) are being proactively engaged to complete a bio-psycho-social screening tool that informs a child and family centered assessment and integrated interventions.
Stocktake of engagement activities across the Partnership's programmes
Part of the role of the Partnership Coordinator was to take stock of engagement activities so far across the Partnership and its programmes, including their reach and impact. This report reflects on activities during 2018.
'A Healthy Future in Southwark and Lambeth' event (March 2019)
This event was arranged to inform, and engage, the public with some of the programmes and themes overseen by the Partnership.
The four programmes were each able to run two conversations with attendees during the workshop. Participants discussed each programme in light of themes within the NHS Long Term Plan, such as health inequalities.