Would you like to become a governor of the South London and Maudsley NHS Foundation Trust
Make a difference today and put your name forward to be a governor of the South London and Maudsley NHS Foundation Trust.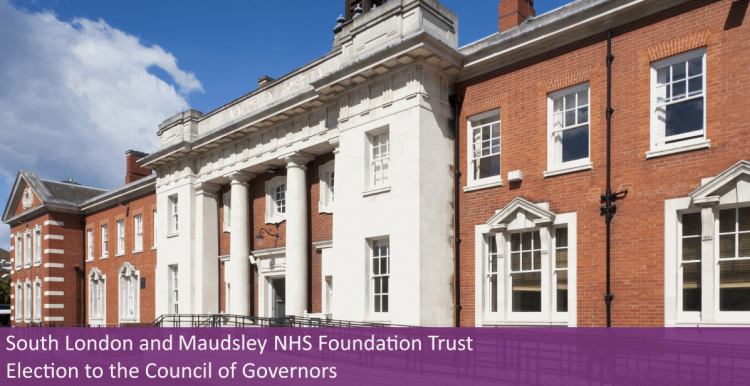 The Trust provides NHS care and treatment for people with mental health problems. They also provide services for people who are addicted to drugs or alcohol. As well as serving the communities of south London, they provide specialist services for people from across the UK and beyond.
Elected governors play a vital role in making sure that the views of the wider community are taken into account in providing and developing our services.
Current governor vacancies available:
Public – five vacancies
Service User: resident in the boroughs of Croydon, Lambeth, Lewisham and Southwark (local) - one vacancy
Service User (living elsewhere in England) – one vacancy
Staff – three vacancies
How to apply
To find out more information and to complete a nomination form online visit: www.cesvotes.com/slam2020
If you would like a hard copy nomination form please contact the Returning Officer, Ciara Hutchinson as follows:
Telephone:  020 8889 9203
Text:            Text 2FT SL and your name and address to 88802
Post:            Civica Election Services, 33 Clarendon Road, London N8 0NW
Find out more about being a governor
Please click on this link: www.slam.nhs.uk/about-us/whowe-are/council-of-governors
For membership enquiries please contact membership@slam.nhs.uk
See the membership website https://www.slam.nhs.uk/about-us/get-involved/membership/ for information about membership, and also for the Smile with Us bids scheme. 
Deadline: Tuesday 22nd September