New Healthwatch Regional Director for South East London Clinical Commissioning Group
We are pleased to announce our colleague Folake Segun's new start as South East London Healthwatch Director! This is part of the merger of Southwark CCG (and five other local CCGs) into a regional South East London CCG.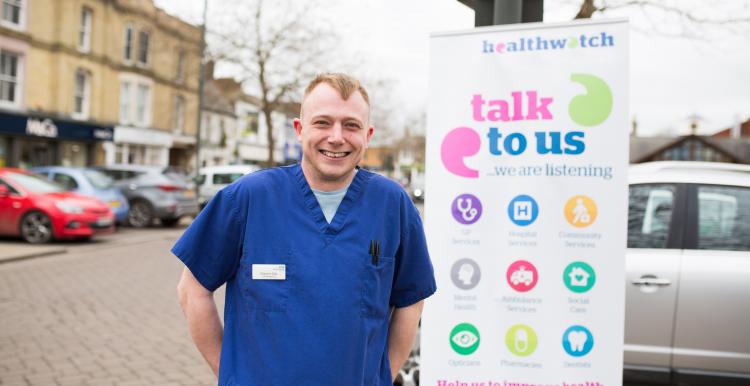 As the local Clinical Commissioning Groups (CCGs) are being merged into regional CCGs, with Southwark CCG becoming part of a new structure called South East London CCG (SELCCG), Folake will work to ensure that the six Healthwatch across the region have a joint impact to ensure local people's views and needs are represented.
Here are a few words from Folake, covering bit of background on the CCG structure change, what this means for local people, and why we find it important to hold a joint representation in the regional CCG as systems and services change.
A new Clinical Commissioning structure
From the 1 April, the six Clinical Commissioning Groups (CCGs) in South East London, who are responsible for planning and buying our healthcare services and making sure that we have good provision of care, all merged to form a new CCG at the regional level. This new joint CCG covering Bexley, Bromley, Greenwich, Lambeth, Lewisham and Southwark is called South East London CCG (http://www.selondonccg.nhs.uk). The SELCCG is part of Our Healthier South East London.
What does this mean?
For the 1.9 million residents in South East London, this means that the six boroughs can work together better to address a lot of what we have been hoping to improve. Some of the fractured or inconsistent care delivery at local levels will be improved through regional oversight. For example, Lewisham Hospital which has historically been commissioned by Lewisham, Bexley and Greenwich CCGs, will now instead only be commissioned by SELCCG, making it easier to plan and deliver.
What about local services?
The new decision-making structure will cover overarching services like the hospitals in the borough and mental health services. Meanwhile, each borough will have a Borough Based Board, which are made up of local GPs, Directors of Public Health, the local Healthwatch and more. They will still be responsible for things like commissioning GPs, community services e.g. district nurses and so on. They will carry on being in charge of anything that is commissioned by the local authority or NHS for Southwark residents only. They will work with the SEL CCG to ensure smooth intersection between primary and secondary care. They will also work with Southwark Council to better integrate health and social care.
Stronger regional cohesion
What this really means is that the conversations are changing. The borough based local conversations we have been having about service planning, monitoring and commissioning will become regional ones. What it means for the local people in the six boroughs is: in theory we shouldn't see a difference in the service people receive, and if we do, we should see better integration between Health and Social Care across the region, meaning improved patient experience. As services become more joined up across the region, it should mean that people have a better journey when receiving the care they need. For example, people would not have to repeat their story over and over again when being referred across different services.
A joint impact by six Healthwatch
We want to continue to make sure patient voice and people's voices are represented. With a new structure in place, some people may fear is a threat to local representation. We're here to ensure that local residents can still have their say about how health and social care services should be planned, monitored and paid for. With a new regional CCG forming, we thought it would be very important that Healthwatch is also able to have an impact on the regional level. We want to make sure that what people are telling us as Healthwatch is part of the new commissioning of services, from day one.
That's why we've been having conversations with OHSEL over the last year, we put in a proposal to support the capacity of a regional Healthwatch director, and we were given funding for two years to ensure representation. Our argument was that the good work that has been done so far by us, as well as the ongoing feedback we continue to receive from people will be incorporated in the new developments.
A few words about me
I really believe in patient and public involvement, and that people who use public services have a right to contribute to what those services should look like. With a dedication to ensuring services take on board what people say, I have worked at three Healthwatch over the last 8 years. I helped set up Healthwatch Croydon when Healthwatch first came into place in 2013, and then moved on to Bromley and Lewisham, so you could say I know the region and Healthwatch really well. I have a strong track record of supporting people's involvement in the design and delivery of health services for example phlebotomy (Bromley) and translation services (Lewisham). Our six Healthwatch regularly work effectively and collaboratively with each other. We saw this most recently in our public engagement on the NHS Long Term Plan where the views of over 1000 people have influenced the NHS will deliver local and national priorities across and within south east London.
This week I am taking up the role of regional director and am keen to work on ensuring services reflect the whole population and be accessible for the whole population. In this new structure, it will be a challenge for the NHS to ensure focus on inequality isn't lost, and I am committed to making sure that equalities stays at the top of the agenda. This is a new role, and we are still trying to figure out how we will coordinate and represent people across all six boroughs. It is also exciting to say that my role is the first in London, and we recognise that our regional Healthwatch involvement model could be a template for delivery for other Healthwatch to work jointly.
I would like to thank all colleagues across Bexley, Bromley, Greenwich, Lambeth, Lewisham and Southwark for welcoming me into my new role and I look forward to getting to know the views and experiences of local communities better.
We want to hear from you
And lastly but most importantly, we continue to rely on stories and feedback from south east London residents to help us ensure your priorities and needs are met in this new structure. As rapid changes are rolled out across health and social care, and you may have to use services differently over the next few months and years, your feedback is as important as ever to get things right. Please do get in touch with your local Healthwatch and encourage your friends and family to share their experience too – so that we can make care better for everyone in south east London.
I can assure you that I will be working with all six Healthwatch to ensure no community or population is underrepresented or not heard. The local intelligence, stories and feedback from you, will help me ensure everyone's needs are reflected in new structures, plans, and decisions that SELCCG puts forward.